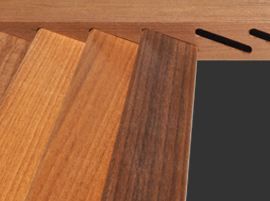 Southern Plantation Shutters has introduced their latest product "THERMIC WOOD". A plantation shutter constructed entirely of heat treated hardwood using traditional mortice & tenon joiner. The heat treating process cooks all of the natural sugars out of the wood making it inedible to insects, fungi and impervious to water. The wood becomes a chocolate brown so that when coated with a sealer, it becomes a rich walnut color. This will make a great addition to outdoor kitchens, patios and cabanas.

Long ago the Vikings learned the secret to this perfect wood material. Their secret involved exposing the wood to fire. During the last 20 years the process of thermally modifying wood to improve its durability and improved dimensional stability has been perfected.
For ages, mankind has enjoyed the beauty and warmth of wood.  The possibilities it offers can be seen where ever we look.  As sturdy decks and balconies, stylish furniture and house trim, musical instruments or industrial structures, window frames or walking sticks.  Wood is a material that is both aesthetically appealing and endlessly practical.  It is also our only naturally renewable construction resource.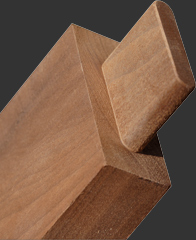 The natural beauty and versatility of wood are fundamental to its universal popularity.  When properties such as high strength, light weight and good insulation are required, wood becomes the ideal choice for many applications.  It is sad though that these compelling attributes are offset by the susceptibility of wood to deterioration, especially when exposed to the natural elements.

Historically the use of tropical hardwoods and the application of toxic chemicals to nondurable wood's have provided a partial solution to the problem.  However, the wood's dimensional stability is not improved and toxins create a hazard for humans and the environment.


If an alternative existed which was sourced from renewable forests had zero toxicity, provided dimensional stability and long term warranty, a perfect material would have been found.
Long ago the Vikings learned the secret to this perfect wood material.  Their secret involved exposing the wood to fire.  During the 80's, groups of scientists around the world experimented with the Vikings process.  They began integrating modern technology into the process by blending heat and steam.  By using this combination they were able to improve upon the Vikings original process.

During the last 20 years the process of thermally modifying wood to improve its durability and dimensional stability has been perfected!  By using a proprietary formula of heat and steam, natural wood is modified, without any chemicals, to provide long term durability and improved dimensional stability.  With performance credentials and extensive research, this material is now available in the U.S. and is called THERMIC WOOD.

Currently all the products that are made from Thermic Wood start with American Hardwood, one the best structural wood materials.  This provides each of the products with the highest material strength, plus the added benefits of the thermal modification.
THERMIC! High performance wood without compromise!





The wood becomes a chocolate brown so that when coated with a sealer, it becomes a rich walnut color.


Moisture Resistant:
During the thermal modification process, the cellular structure of the wood is actually burned or fused together.  This causes the wood to be impervious to any further moisture entering it.

Insect Resistant:
This process stops rotting and decay in the wood also makes the wood resistant to insects. This is because  no food source left in the wood, the insects do not feed.

Dimensionally Stable:
Because Thermic Wood cannot absorb more water, the wood becomes dimensionally stable.  Water can cause wood to grow or shrink depending on the moisture content.  Thermic  Wood maintains its dimensions and shape even after installation.

High Strength:
Because no chemicals are used in the processing of Thermic Wood, the inherent strength of this wood material is left intact.  Thermic Wood is created from American Hardwoods, one of the strongest woods available.


Resistant To Warping and Twisting:
Once again the inability of Thermic Wood to absorb water helps it resist the warping twisting and cupping normally associated with natural wood.

Chemically Free:
Thermic  Wood is created through a thermal modification process that does not use any chemicals.  Only heat is applied to the wood.  The natural wood is only modified, with nothing is added.

Environmentally Safe:
Because Thermic  Wood contains no harmful chemicals, it can be disposed of in the same manner as any untreated wood, such as disposal in landfills, use as mulch, campfires or waste burning, etc...

Weather Resistant:
Thermic  Wood is only effected by ultraviolet light from direct sunlight and it only changes the color of the wood.  Thermic Wood will turn a soft gray color when exposed to sunlight.  Other than changing colors, the sun has little or no effect on the material.

Stainable & Paintable:
Thermic Wood can be stained or painted.

Non Hazardous to Humans:
Again Thermic Wood is chemical free and poses no potential harm to humans or animals.  No protective clothing is needed.

Sustainable:
All Thermic  Wood is processed from U.S. grown American Hardwood.  Wood grown in the U.S. is harvested from sustainable forests.  Trees are harvested and replanted all of which is overseen by the U.S. government.



THERMIC  WOOD
Can different tree species be modified thermally?
Nordic tree species, such as pine, spruce, birch and aspen are suitable for thermal modification.  In addition, at least a few hardwood species, for example beech, oak and ash can also be modified thermally.

How long does the Thermic Wood effect last?
Although thermally modified wood itself does not have any specific guarantees, several independent research institutes have obtained consistent result on the biological durability of the product.  According to their tests, thermally modified wood is clearly more durable that normal, untreated wood.
Long-term experiments have been used in the past to test the decay resistance and weathering  abilities of thermally modified wood.  These will continue to be used in the future in order to provide more accurate information. 


Why is Thermic Wood so durable even though resin and other extract substances have been removed?
The durability of Thermic Wood derives from changes that take place in the chemical compounds of wood.  The hemicelluloses (sugar compounds) of wood are decomposed, and thus fungi have no nutrients to feed on.  In order to prosper and decay wood, fungi need the right temperature (at least 5°C), the right moisture of wood (over20%), and sugars.  The moisture of thermally modified wood remains well below 20% when the structures are in contact with the ground or even if the relative humidity of the air is 90%.  This prevents or at least significantly slows down the growth of fungi.